Pupil Progress
Assessment is an essential and integral part of effective teaching and learning at Russet House School
On-going tracking of pupil progress
Progress is tracked in several ways at Russet House School in order to provide a holistic view of each pupil and to be able to focus on the needs and strengths of each individual. Our assessment systems were revised in 2019 to reflect the recent changes regarding statutory reporting for children with Special Educational Needs as a result of the Rochford Review; and to support the implementation of the school's new curriculum (see Curriculum, Teaching and Learning section).
In the past Russet House pupils in year 1 and above have been assessed against levels know as P-scales which were published by the government and which had to be used by all schools. The government has said that schools should no longer use the P-scales and that schools should devise their own method for measuring pupils' progress.
As a school, our teachers, Phase Leaders and the Senior Leadership Team have developed a new Pupil Progress Framework, consisting of Progress Pathways. Each pathway involves a series of 32 statements for each area of the curriculum (e.g. English – reading, English – writing, Maths - number, science etc.) and also for the different aspects of our life skills curriculum. The pathways have been developed by our highly experienced staff team and are therefore written with an understanding of how pupils with autism learn to ensure they are relevant and meaningful. We recognise and value that our pupils all have very different needs and that they learn in different ways and at different rates. We therefore promote a personalised approach to assessment and as such there will be no standard measure of expected progress, nor will we have any comparative data.
Evidence for Learning
Under the 2019 OFSTED framework, we are no longer required to produce quantitative progress data. Instead, we are required to provide real evidence of the progress that our pupils have made. Staff are using an App called Evidence for Learning (EfL), to gather photos, videos and work evidence (on school devices) to "tell the story" of progress of an individual. Then staff link pupils' achievements to one or more of the statements from the Subject Progress Pathways. The evidence is used to assess, track, review and plan for pupils' next steps of learning and is monitored throughout the year to ensure pupils are reaching their full potential. We are using this system for all our pupils across the school (see diagram).
Sharing progress with parents
By using this App we are able to demonstrate the progress pupils have made and class teachers will share some of the photos/ videos at Annual Reviews. If parents would like to see an example of a Subject Progress Pathway they should request a copy via the class teacher.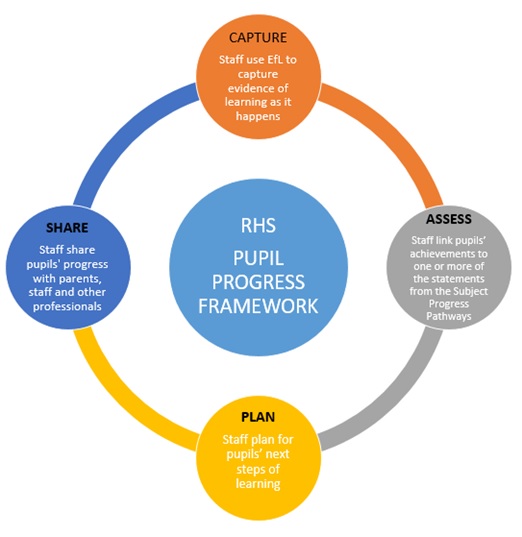 Statutory Assessment at the end of Key Stages
At the end of Reception, each pupil is assessed against:
Early Learning Goals (ELGs)
3 characteristics of effective learning (playing and exploring, active learning, creating and thinking critically)
At the end of key stage 1 (year 2) and key stage 2 (year 6) each pupil is assessed against:
The standards set out in the Teacher Assessment Frameworks (TAF); or using the Pre-Key Stage Standards for pupils working below the standard of national curriculum assessments and engaged in subject-specific study.
For pupils not engaged in subject specific, teachers are using the Engagement Model which will become statutory from 2020/21.
Further information and results are reported in Annual Reports at the end of the year.
Tracking progress against EHCP outcomes
The progress pupils' make against their individual EHCP outcomes are tracked and recorded using the Autism Education Trust (AET) Progression Framework. This is a comprehensive interactive assessment tool designed for pupils with autism to track progress in areas that fall outside the national curriculum.
Once an area for development has been identified (e.g. recognising and managing emotions or developing social skills like turn taking), staff carry out a baseline assessment and continue to track progress termly.
Sharing progress with parents
Pupils' progress towards the outcomes are reported in the 'Evaluation and Review of Progress towards Outcomes' documents shared at Annual Reviews.
We also ask that parents support the school and their child by continuing to work on key outcomes at home where relevant.
For more information please visit: https://www.autismeducationtrust.org.uk/resources/schools-resources/progression-framework/